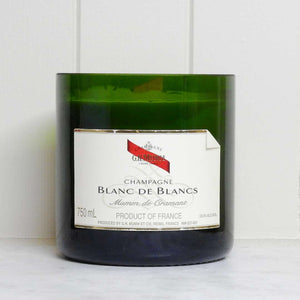 This wooden wick candle is hand-crafted in Sydney, Australia and is made from a reclaimed champagne bottle with an all natural custom soy/coconut wax blend.
Please note the following: 
We inspect every single bottle and have taken the utmost care to select the best ones to upcycle. Because we are using real champagne bottles that have been previously used, some of the labels may have minor imperfections. This doesn't affect the functionality of the product and adds to the authenticity and charm. 
All bottles are hand-cut and polished and therefore may have minor
imperfections.
Because we are using natural ingredients and products, naturally, there might be small imperfections in the wax.
Champagne bottles have a raised indentation at the bottom called a punt. The wooden wicks are attached to the top of the punt. Once your candle has burned down, there will be wax left due to the structure of the bottle. To remove excess wax, place the candle in the sink and pour boiling water into the container and let it soak, being careful not to get the label wet. After a few hours, the wax will float to the top and solidify. Remove the wax and wipe out any remaining residue in the container. 
DISCLAIMER: Champagne Collective is not affiliated with this brand or any other company or brand whose labels appear on our products. No relationship or endorsement is expressed or implied.