Christmas Sale On Now

New Bundles Available
Our Products are a glamorous addition to any home, make great gifts and play a small part in helping the planet
SHOP LUXURY UPCYLED CHAMPAGNE CANDLES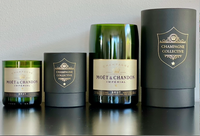 CHAMPAGNE COLLECTIVE
STYLE AND SUSTAINABILITY
The idea for Champagne Collective came about in 2015 after enjoying champagne and always being reluctant to just toss such a fabulous bottle in the bin.
In Australia, 1.36 million tonnes of glass containers are dumped each year. Our mission is to save a portion these beautiful bottles and give them a bright new life by making them into a one-of-a-kind luxurious candle, vase or container. 
Our products are a glamorous addition to any home, make great gifts and play a small part in helping the planet.
PLEASE NOTE: Champagne Collective is not affiliated with any brand or company whose label adorns our products. No relationship or endorsement is expressed or implied. 
SHOP NOW