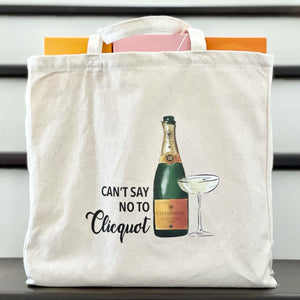 Champagne Collective Can't Say No to Clicquot Cotton Tote Bag
Large environmentally friendly reusable tote bag with an extra wide gusset and a fabric lined hard base for added strength.
Manufactured from 280gsm natural heavy cotton canvas with long matching handles.
Size (W x H x D)  
330 x 330 x 190mm
Handle length  
Approx. 660 x 25 mm
Disclaimer: Champagne Collective is not affiliated with any other company or brand that appears on our products. No relationship or endorsement is expressed or implied.